Discover more from Starting Out
Your guide to starting a career in podcasts and radio, whether you're a college student or making a midlife career change. Made in collaboration with Transom.
Over 4,000 subscribers
Fight for your creative voice 🔥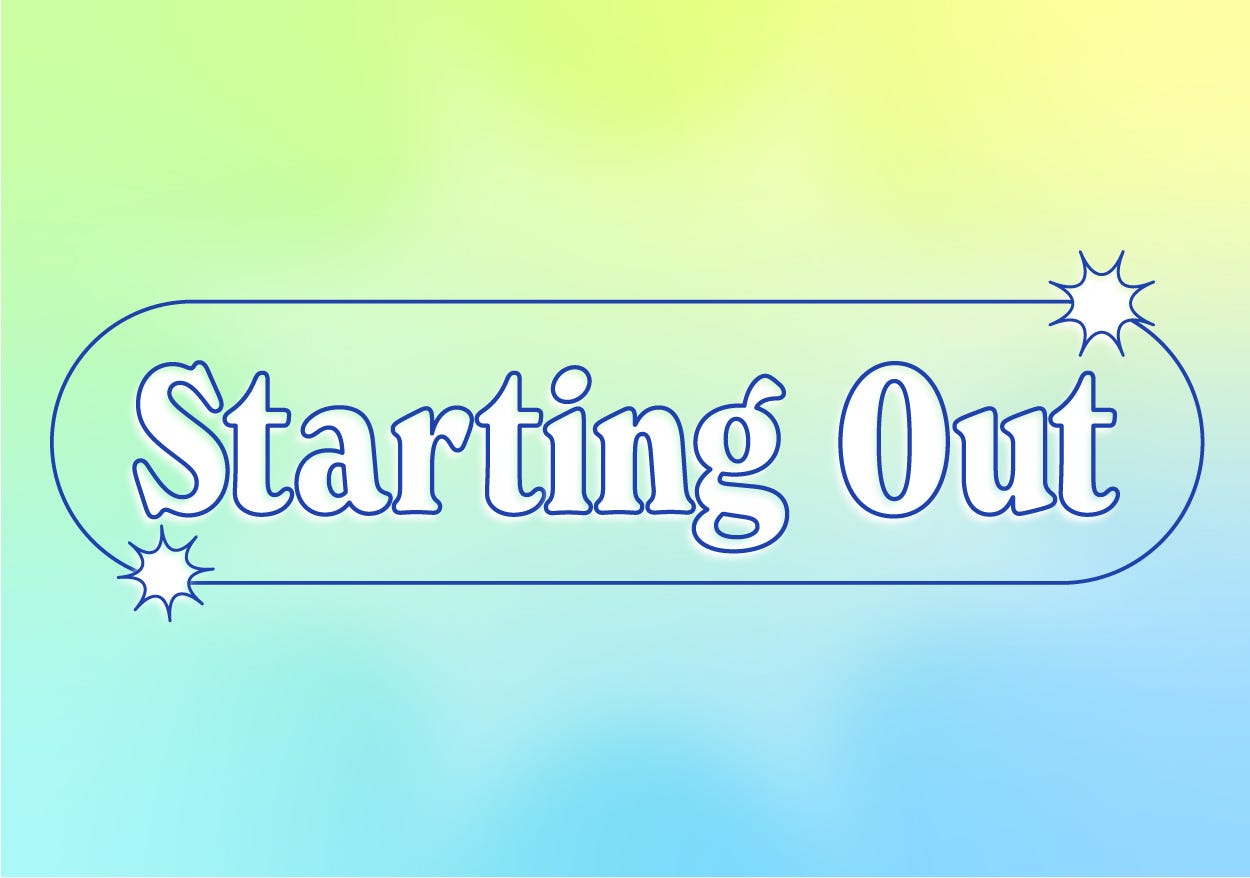 Hey y'all--
Ariana Martinez has been on my "to interview" list for a while now — they're an incredibly talented sound designer and make truly delightful stories. But what most excited me was how they push this industry to do right by people who aren't often in front of the mic — engineers, designers, producers, interns.
I remember finishing our interview back in August and feeling like I'd had an "aha" moment about what's missing in mentorship for early career podcast and radio makers. I think you'll love our interview too.
Also in this issue: how to approach your first "group edit" without stressing over trying to seem like the smartest person in the room. Plus — my job is hiring an intern! Several of the applicants we interviewed last time around were readers of this newsletter (and all of them were brilliant and very qualified, not to brag) and I'd love to continue that tradition.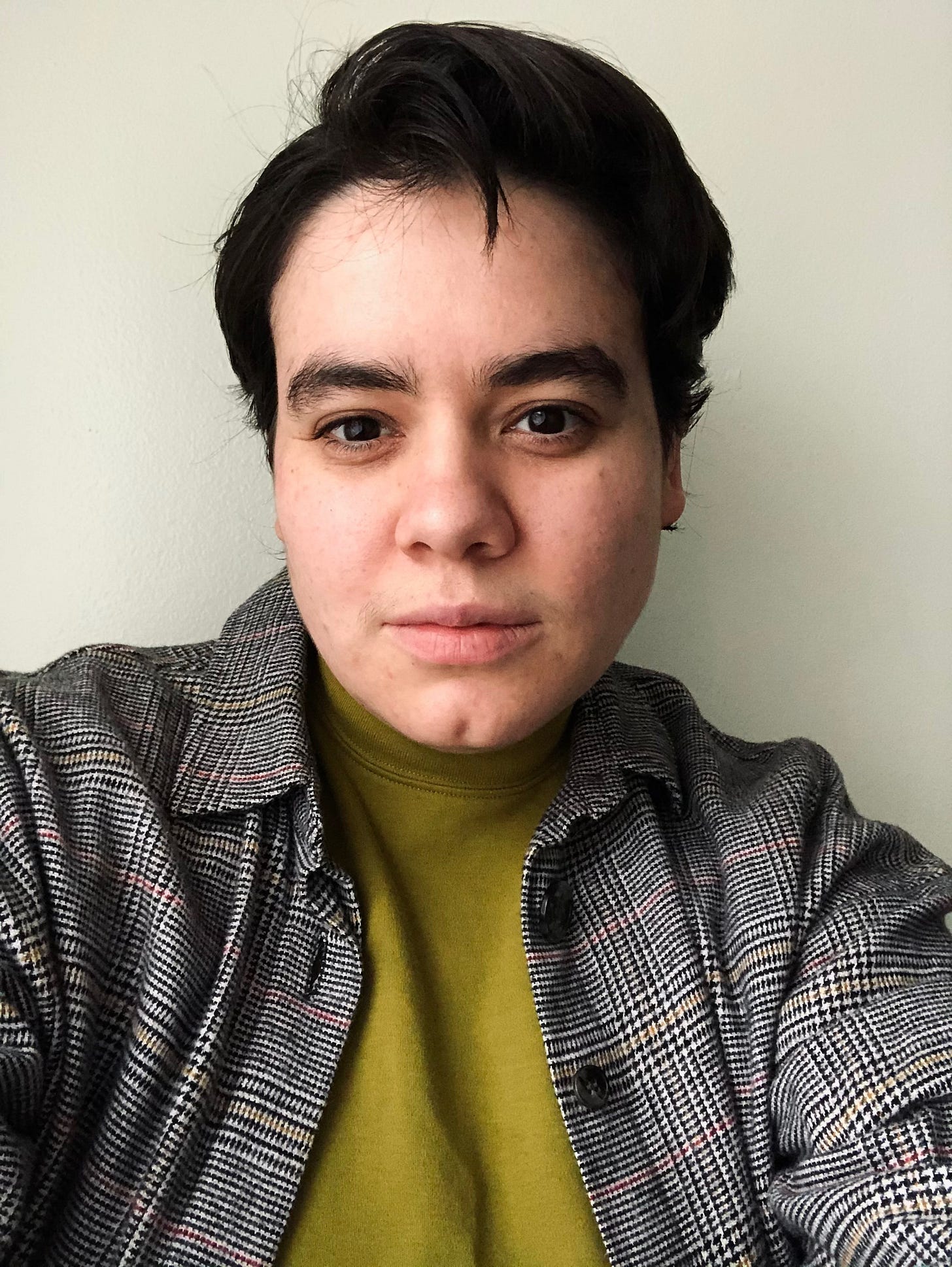 Alice: Would you describe yourself as first a sound designer or an engineer?
Ariana: In the audio world, I would say I'm a sound designer who had to be an engineer by default because those two roles are honestly almost always tied. But in my life in general, professionally, I actually always identify as a multimedia artist first — before I even say that I'm a sound designer, even in audio circles. I do that because I feel very strongly that maintaining the artist part of my professional identity gives me more flexibility and more grounds on which to demand a certain kind of creative freedom in the projects that I take on.
I don't want to be perceived as a hired gun, and I think that can happen, especially with technical skill. You can be denied a kind of agency over projects, so I think by naming myself as an artist first, the people who approach me to work with me have to contend with that part of who I am and what I do before they think about hiring me. Maybe in an ideal world, that's what's happening. Maybe people aren't thinking about it that much, but that's how I'm thinking about it.
Resources
I can't speak to every method of running a group edit (every place does it differently!) but I want to start by walking you through how group edits worked at one of my first jobs, WNYC and ProPublica's Trump, Inc. This format came together as a collaboration, people on the team proposed different parts of it as we went. Here's how we did group edits:
Everyone received a copy of the script. For us, it was a printed copy. When working remotely, it can be a shared Google Doc, but we didn't make comments in the document in real time. That was saved for after the edit.

Just before this began, someone set a timer on their phone, so we could have an idea of how long the draft was.

The person voicing the episode read their "tracking" and a producer would play cuts of tape (the recordings from interviews, on-the-ground reporting, clips of news footage, etc).

While the script was being read, some people looked at and made notes on their physical copy of the script. Others preferred to just listen, to simulate the experience of someone actually listening to a finished story, and they made notes on a blank sheet of paper. The types of notes varied from person to person. I noted down where I was confused, bored, where I laughed, or was curious and excited.

After we finished listening to the draft being read, we started giving our edits. Everyone got two minutes to give their feedback (again, using a timer) and the rule was that you had to start by saying two things that you liked or thought worked well before launching into edits. It's good for morale, and also lets the team behind the episode know what to keep when they're making revisions.

We did the two minute rule to ensure that everyone had the same amount of time to give their feedback, whether they were the intern or the executive producer.

We would occasionally invite someone from a totally different team to join the group edit, so we could get feedback from a pair of blank slate ears. I love this practice.

During the feedback period, the host and producer were taking notes on all the feedback given. After everyone had their two minutes, we had a more free flowing conversation, where the writers of the episode could dig in and ask more questions, and the team could debate revisions.

Later that day (or the next) the producer would meet with the host/reporter and sometimes the editor to rewrite more intensively. If I'm a producer on an episode that's just been edited, I like to take a nice long walk or have lunch after the group edit. I personally need time to decompress (you get a lot of feedback, much of it conflicting!) before debriefing with the host. That means taking a break, getting a coffee, zoning out somehow.
I was nervous during my first group edits; I felt like I needed to give the smartest, most perceptive feedback, but when I heard my coworkers drafts I would think, "That was so good, I could never do that, so how can I possibly improve it?"
If you're an intern or fellow in a group edit, remember that no one is expecting you to "fix" a story or offer the most profound feedback. Your real strength in this position is your inexperience.
You're not coming in with baggage around how the show works or the politics of that particular workplace. You probably don't know the whole history of the story that the producers/reporters have worked on. You're a proxy for the actual audience of the show. So if you're at a loss for what kind of feedback to give, you can always note moments where you were confused or felt your attention drift. Tell people how you felt at different points of the story. When were you delighted or angry on behalf of a character? Were you surprised? On the edge of your seat? That's all valuable feedback.
I think it makes sense to spend most of your time in group edits listening and picking up on what kinds of notes others give. It's the best place to learn about how each member of your team approaches the story. I love getting to hear how my colleagues' minds work, how we can all listen to the same thing and come away with different reactions and ideas.
In that spirit, I asked around for my colleagues' advice on providing feedback in a group edit. Here are some of my favorite responses:
Ann Hepperman: Have people say what is happening in the story and what the takeaways are. This works for fiction and non-fiction. That way the person being edited hears what listeners are coming away rather than feeling judged from the start.
Katherine Brewer: Identify what is working and what isn't working and realize there may be several different solutions to what isn't working. There is no one way a script "should" or could be. Also, is the pacing syncopated or monotonous? It should be syncopated.
Ben Brock Johnson: Compliment sandwiches = good way to deliver criticism. You don't NEED to give input. It's not about proving how smart you are; it's about making it better.
Kalli Anderson: Get really clear on what stage the story/piece is at and which kind of edits and comments they're looking for at this stage. Make note of what you love. Focus on your reactions to how something is hitting/working/sounding more than immediately jumping to proposed "fixes"
Sarah Geis: Oh I have thoughts... maybe the 1 thing is feel free to note what WORKS & what you love. Sometimes it feels like yr supposed to be really critical to show yr smart? But supporting folks recognizing & building on their successes is super smart & useful & man does it help the vibe.
Martín H Gonzales: Compliments don't always need to be sandwich condiments!!! big proponent of sprinkling positive reinforcement throughout in the form of "lol", "omg", "love this", "great writing here!"
Tim Howard: Don't try to solve problems with your initial notes. first thing is to articulate how you felt when you listened...the places where you were confused, bored, happily surprised. the feelings are gold & the fixes can come later.
To read all the wonderful advice I got (including advice for when you are the one being edited) check out my original call for advice.
Classifieds
Internships
Intern, Production, Marketplace, American Public Media Group ($18/hr)
Intern, Audio, APM Studios, APMG ($18/hr)
Intern, Programming, The Current, APMG ($18/hr)
Intern, Investigative, MPR News, APMG ($18/hr)
Intern, This is Uncomfortable, Marketplace, APMG ($18/hr)
Intern, Make Me Smart, Marketplace, APMG ($18/hr)
Intern, Radio Reporter, MPR News, APMG ($18/hr)
Intern, LAist, Southern California Public Radio, APMG ($18.66/hr)
KCUR's Aviva Okeson-Haberman Internship Program is hiring summer interns for a variety of positions. ($12.50/hr)
Newsroom Intern, WITF, ($12/hr)
Intern, Feet in 2 Worlds, ($15/hr)
Fellowships
Community Colleges Fellow, Southern California Public Radio, APMG ($18.66/hr)
Assistant/Associate Producer
Associate Producer (Part-time), Southern California Public Radio, American Public Media Group ($26.76-$33.85/hr)
Assistant Producer (On Call),  AirTalk with Larry Mantle, APMG ($23.90/hr)
Associate Producer, WBUR News and Programming, Boston University ($67,858/yr)
Part Time Associate Producer, The California Report, KQED ($36,200-38,300/yr)
Other resources
Lori Mortimer just launched a newsletter for aspiring sound designers!
Starting Out has a sister newsletter! Talia Augustidis recently launched All Hear, a newsletter chock full of audio opportunities — including lots of international ones. Subscribe!
 
If you are hiring interns, fellows or other entry level positions, send your job postings and rates to startingout [at] transom [dot] org and I'll list them in the next issue. Please note that Starting Out features only paid opportunities.
Ariana recommends
Shade Podcast, specifically their Interludes Series (produced by Axel Kacoutié): It's one of the best podcasts about contemporary artists I've heard in recent years.
Telling Stories: This is a podcast about audio craft that I think is invaluable to beginners and, honestly, anyone wanting to hear how great audio minds listen, think, and create. Produced by Phoebe McIndoe and Redzi Bernard.